BBC 'Share Your Career Story'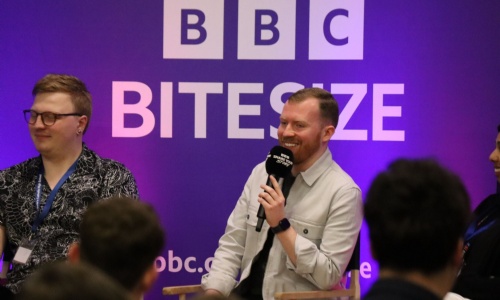 Oliver Hill (pictured), who left Saint Bede's in 2014, returned to his old school with a group of colleagues from the BBC to share the journeys they had taken from school to reach their current careers.
This was part of the BBC's 'Share Your Careers Story' - an initiative to mark the BBC's centenary to inspire young people to achieve their career goals and help realise their ambitions.
Oliver, who is now working as a researcher for such well-known shows as 'The Voice' was joined by local BBC broadcast journalist Parin Begum; owner of Blackburn-based Esche Haus recording studio - James Duckworth and well-known Newsround presenter, Martin Dougan.
The panel skilfully fielded questions from pupils in all year groups who attended sessions held throughout the day on Tuesday, 17th January.
For more pictures of the panel from our BBC Bitesize visit, please visit our Saint Bede's gallery page.