International Men's Day 2023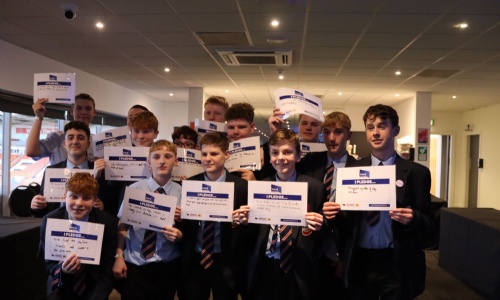 Saint Bede's pupils took part in International Men's Day 2023
Year 9 pupils took part in International Men's Day on Friday 17th November at Blackpool Football Club.
The boys took part in a variety of workshops throughout the day ran by local artists and business owners. During an arts and crafts session, the boys contributed towards a large creative piece based on "baggage", this baggage being emotional and mental which men feel they have to carry. Once this piece is completed, the artist will share information about where it will be on display for the local community to see.
Pupils also enjoyed conversations with the various professionals who had stalls at the 'marketplace' style event. Our final session of the day was participating in a Q&A where pupils got to ask questions to a professional panel - charity founders, a local artist and Head Coach at Blackpool FC, Neil Critchley (who some lucky students were able to meet!). From being able to learn about men's mental health to engaging in reading at every age, the boys contributed fantastically to the day and its events.
At the end of the day, our pupils wrote their own pledge. This pledge is a promise for the future and means something to that individual for International Men's Day 2023.