Careers (CEIAG)
Careers Education, Information, Advice and Guidance (CEIAG)
Our CEIAG programme aims to enable our young people to develop the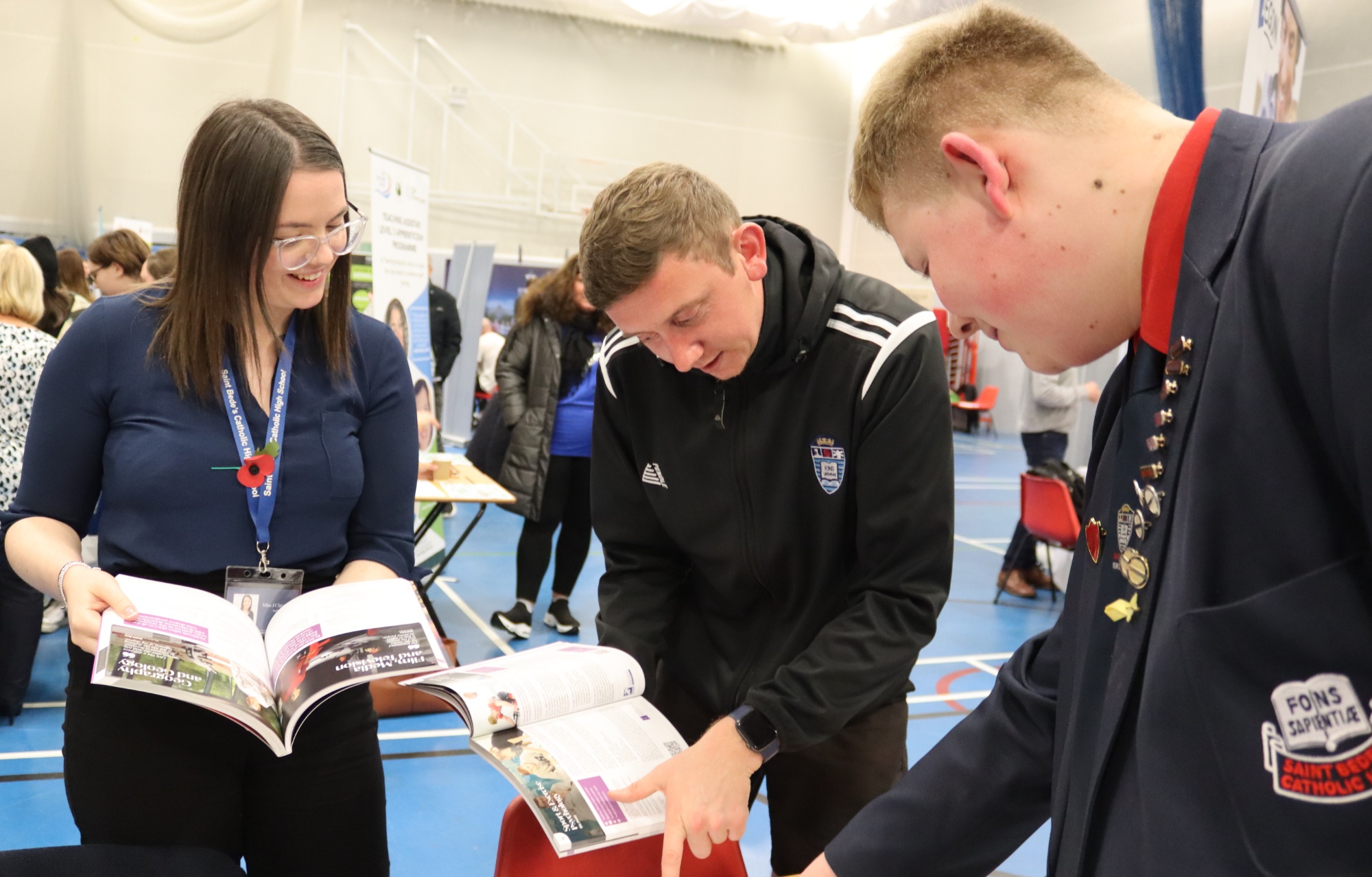 knowledge, skills and confidence to realise their potential and follow a career path that suits them best 'enabling them to contribute to their community and support social and economic prosperity'.
Careers Education, Information, Advice and Guidance is a progressive journey from Year 7 to Year 11. The aims at Saint Bede's are:
For students to develop positive attitudes to study and work
For students to evaluate their own strengths and to build in their own areas for development
To help students fully engage in career planning
For students to understand and develop the skills that are required to be successful in their future pathway
To provide students with a comprehensive understanding of opportunities at key transition points and translate these effectively into appropriate decisions and actions
To provide students with relevant careers information, advice and guidance that are suitable for their individual needs
Saint Bede's Catholic High School aims to provide equal opportunities of access to careers information, advice and guidance for all students.
Our CEIAG programme is led by Mrs Holmes (hholmes@stbedeslytham.lancs.sch.uk). If you require further information or think that you could offer our students a careers experience, she will gladly assist. We work closely with an Enterprise Co-ordinator from Inspira who provides us with support and guidance as well as providing external scrutiny and quality assurance.
We link the programme to the eight Gatsby Benchmarks which are explicitly referenced through the DfE's Careers Strategy (December 2017) and the new Statutory Guidance for Careers (January 2018).
The eight benchmarks are
1/. A stable careers programme
2/. Learning from career and labour market information
3/. Addressing the needs of each pupil
4/. Linking curriculum learning to careers
5/. Encounters with employers and employees
6/. Experiences of workplaces
7/. Encounters with further and higher education
8/. Personal guidance
Our careers programme is delivered as an element of our weekly PSHCE lessons and through additional events that take place during the year.
Summary of the programme
Year 7 – Developing skills and aspirations (First half of Summer Term)
Identifying aspirations, goals, values and beliefs exploring how these change with time and in relation to potential work roles
Understand career stereotyping and aspects that influence career choices, including how cultural expectations may limit aspirations
Practise debating skills, exploring a range of viewpoints and how we are influenced
Introduce STEM as a career role and the importance of being a lifelong learner
Explore roles within STEM focusing on women in the associated industries/professions
Year 8 – Careers (Second half of Summer Term)
Understand and explore the links between success and motivation
Explore what a good student and then good employee look like, including the link between key routines and skills at school and the work place.
Understand what is meant by employability in various forms
Explore equality of opportunity in life and how this affects life choices
Begin considering different types and patterns of work
Year 9 – Careers (Second half of Spring Term)
Understand the importance of decision making, how to make informed decisions and how these affect future careers and lifestyle
Exploring options and selecting options choices (including GCSE and VCERT courses) and how these choices can influence or direct post-16 pathways and also career
Explore where different subjects can lead with guidance for selecting the right options
Explore employability and employability skills and personal qualities
Year 10 – Careers (Second half of Autumn Term)
Review aspirations and goals and understand how they relate to the future and careers
Explore levels and ranges of apprenticeships, and how and where to find them
Understand what LMI is and how to evaluate the information to support career pathways
Understand different employment statuses, categories of employment and how to evaluate employment contracts
Produce a leaflet about different employment types and their rights, including a section specifically about child employment
Study how to access a payslip with a focus on tax and student loans
Year 11 – Careers (Second half of Autumn Term)
Review aspirations and goals; understand how they relate to the future and careers
Understand key employability skills, evaluate own skills and how they can create a career path
Explore CV writing including understanding what to include, identifying skills, adapting to job specification and layout
Understanding interview technique including different types of interview, testing and what interviewers are looking for
Explore how personal social media and digital footprint can filter into careers.
Delivery of CEIAG through other key events (2022/23 academic year)
Year Activity Gatsby Benchmarks
Year Activity Gatsby Benchmarks
Year 7 Q&A session with school chaplain 5
Year 8 Q&A session with school chaplain 5
Year 9 Post-16 Choices Evening 2,4,5
Options Evening 4
'Engineer Your Career' Victrex & Blackpool & the 4,5,6,7
Fylde College – visit to workplace and activities
Focusing on STEM careers
Year 10 Post-16 Choices Evening 2,4,5
Preston College – Insight into the workplace 4,5,6,7
sampling vocational courses
Blackpool Sixth Form College – taster day 4,7
Cardinal Newman College – taster day 4,7
Year 11 Post-16 Choices Evening 2,4,5
Assemblies delivered by local colleges 2,7
(Newman College, Blackpool Sixth Form College,
Blackpool & the Fylde College, Preston College)
Taster days at local colleges – Newman College 2,7
Blackpool Sixth Form College
Individual careers interviews with independent 1,2,3,4,8
Careers Advisor
Mock interviews with local employers 2,3,4,5
All years BBC Share Your Work Story 1,2,4,5
Assembly for National Apprenticeships Week 2,4,5
All year groups receive guidance in the separate
subject areas on linked careers and areas of study. 1,2,3,4
Provider Access Policy Statement
Under Section 42B of the Education Act 1997 we have a duty to provide pupils in Years 8-11 with access to providers of post-14, post-16 and post-18 education and training. This policy statement sets out how we manage access requests from these providers.
What are pupils entitled to?
Pupils must be allowed to:
Learn more about technical education qualifications and apprenticeship opportunities, as part of a careers programme which informs pupils of the full range of education and training options available to them at each transition point.
Hear from a range of local providers about the opportunities on offer, for example, technical education and apprenticeships – this can be achieved through options evenings, assemblies, group discussions, and taster events.
Understand how to apply to the full range of academic and technical courses available to them.
Who handles our access requests?
Any provider wishing to request access should contact our Careers Leader, Mrs Helen Holmes, on 01253 737174 or via email on hholmes@stbedeslytham.lancs.sch.uk
What opportunities are provided to allow access to pupils?
The key events are detailed in the preceding section but we are always glad to consider other proposals and opportunities. Parents will be made aware of these via newsletters, the school website and social media.
Our Child Protection and Safeguarding Policy sets out the school's approach to allowing providers into school to speak to our pupils.
What can providers expect once a request has been accepted?
Once we have approved a provider, we will work with them to identify the best method for providing access to our pupils. This may include meaningful online engagement under the supervision of staff in the school.
We will identify a suitable venue(s) to host discussions between providers and pupils. We will also make presentation equipment available to providers. This will be discussed and agreed in advance of the visit with the Careers Leader or other designated member of staff.
Can providers leave prospectuses for pupils to read?
Providers are welcome to leave a copy of their prospectus and other relevant course literature with the school careers coordinator via the school office. These may be given directly to pupils as well as being available in an indicated area in the school library.
HELPFUL LINKS
Apprenticeships:
www.gov.uk/topic/further-education-skills/apprenticeships
ICould:
icould.com
Careers Advice for Parents:
www.careersadviceforparents.org
National Careers Service:
nationalcareersservice.direct.gov.uk/home
Start Better Choices:
www.startprofile.com
Labour Market Information by Region
www.ons.gov.uk/employmentandlabourmarket/peopleinwork/employmentandemployeetypes/bulletins/regionallabourmarket/latest
Lancashire Skills Hub
Lancashire Skills Hub is a valuable resource for information on careers in our area.
2022/23 Careers Information Advice and Guidance Resources by Travel to Work Area
Monitoring, Evaluation and Quality Assurance
Regular meetings with the School Enterprise Coordinator and the School Enterprise Advisor ensure a robust programme which meets, or is working towards, all the criteria of the Gatsby Benchmarks and Government Statutory Guidance.
This combined with extensive staff, pupil, parent/carer and employer/training provider engagement and feedback, ensures that there is a robust Careers programme which is annually updated to ensure it is catering for all.
Destinations
All student destinations are collected in house and changes are made to the Careers programme accordingly. Findings are communicated to the governing body.