School Uniform
All Pupils Must Wear Full School Uniform
The Governors have approved the uniform to be worn and parents are asked to co-operate by providing the items listed overleaf and insisting upon their children being properly dressed. This is of vital importance and a crucial bearing on the tone and general discipline of a school. Above all, it shows everyone that all pupils are part of our community.
Our uniform suppliers for badged items are:
J Tavernors of Lytham
29 Clifton Street, Lytham, FY8 5ER
Top Marque
7A Park Road, St. Annes, FY8 1QX
First Class Kids
106 Highfield Road, Blackpool, FY4 2JF
Uniform & Leisurewear
6 Poulton Street, Kirkham, Preston, PR4 2A
School Uniform
All items are compulsory (unless stated otherwise):
Navy blazer with school badge (this should be worn at all times but may be removed for comfort during lessons in classrooms, when seated in the dining room and when outside during break or lunchtime)
Either:
Black, traditional, full-length, straight-leg school trousers (jeans, jeggings, leggings, skinny-fit and fashion trousers are not permitted).
Navy "Banner" pleated skirt with Saint Bede's logo (skirts must be worn on or below the knee, the badge on the waistband must be visible with the skirt not rolled). The skirt can be seen in the image below.
"Banner Trimley" girls trousers
With trousers, socks must be black, dark grey or white and fully cover the ankle to the trouser hem ('trainer' or 'invisible' socks are not acceptable)
Pale blue long-sleeved shirt (short-sleeved may be worn only in the Summer Term)
School tie (at least 4 stripes must be displayed below the knot)
Optional item - Navy V-neck jumper with school badge (jumpers must not be tucked in to skirts/trousers)
Traditional flat black 'polishable' sturdy school shoes (boots, trainers, trainer type and lightweight 'ballet' slip-on shoes are unacceptable). Shoes must be all black with no visible logo or other embellishments.
Either:
Dark grey or black socks (to be worn with trousers)
Plain white knee length socks or black opaque (70% denier) tights (to be worn with skirts)
Year 11 pupils must wear a red long-sleeved shirt (short-sleeved may be worn only in the Summer Term), and a dedicated Year 11 tie.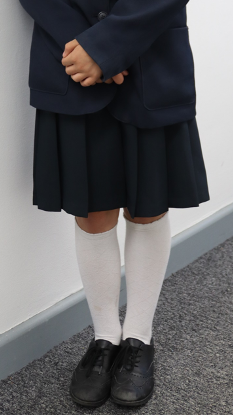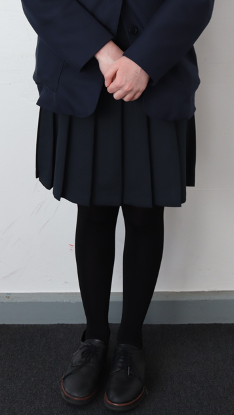 PE Kit
All items are compulsory (unless stated otherwise):
Two tone blue polo shirt with Saint Bede's badge
Two tone blue PE hooded top with Saint Bede's badge
Dark blue football socks with pale blue rim.
Either:
Two tone blue school PE shorts
Two tone blue school PE skort with Saint Bede's badge
Navy blue school PE leggings with pale blue trim OR school navy blue tracksuit bottoms with pale blue rim on zipped pocket (it is advisable to wear the tracksuit bottoms in colder weather, only)
Sports trainers suitable for sporting activities, demonstrating grip and support (Fashion trainers including Converse and Nike Air Force are not suitable – please check with the PE department if you are unsure).
PE kit must be brought to all lessons, even if pupils are excused for medical reasons. In these circumstances they will be set appropriate tasks to complete (such as acting as a Coach, Referee or Choreographer).
All jewellery must be removed for all PE lessons. A single stud in each ear, if worn in line with our uniform policy (see below) may be taped over for PE lessons if recently pierced (please note the exception for trampolining below).
Pupils requiring an inhaler must bring it to each lesson, labelled clearly with their name & form.
Additional Guidance for Specific PE Activities
The information below is based on advice from relevant governing bodies in line with the latest version of "Safe Practice in Physical Education and Sport". (This is information from the relevant governing bodies as outlined in the latest version of the '2012 Safe Practice in Physical Education and Sport' documentation):
Football: In addition to full PE kit, pupils who represent the school team must wear shin pads. These are also recommended for football lessons
Cross Country/Outdoor Fitness: Your child may participate in a number of cross country runs or other outdoor fitness activities (usually in winter if the Sports Hall is being used for exams). In these circumstances, you may be asked to send your child into school with old and suitable clothing for running outside in all kinds of weather conditions. Pupils will be told in advance if this will be required.
Trampolining: Long sleeved top, tracksuit bottoms or leggings and football socks should be worn. No piercings or jewellery of any kind are permissible (jewellery cannot be taped over, it must be removed in the interests of health and safety). Pupils who do not comply with this rule will not be able to participate.
Summer activities: It is advisable to put sunscreen on your child before leaving for school and to encourage them to reapply before they go outside for a PE lesson/practice/fixture. Pupils will also spend time on the school field where, at times, grass is freshly cut. Please take into account any medication needed, i.e. hay fever tablets.
Make-up
The school believes that make-up is not appropriate for children in a school environment. All of the below are not acceptable and must not be worn:
Make-up
Fake tans
False eyelashes
Eyebrow enhancements
Nail varnish or false/acrylic nails
Tattoos (including Henna or Mehndi)
Jewellery
Pupils may wear a single small gold or silver ear stud in the lobe of each ear. Other ear jewellery such as coloured studs, larger studs and earrings are not acceptable. Wearing more than one stud in each ear is not acceptable.
One crucifix or cross and chain may be worn. A suitable watch may also be worn.
No other jewellery including rings, bracelets and body piercing jewellery may be worn.
No exceptions will be made to this policy, including on the basis that time for healing is required. Plastic 'retainers' are not an acceptable alternative to jewellery that is not permissible in this policy.
Hair
Hair must be styled in an appropriate manner that is acceptable to the school.
Examples of inappropriate hairstyles, which are not permitted, include:
Shaved lines or patterns
Shaven hair shorter than a 'number two', covering all or part of the head
Haircuts incorporating a 'skin fade'
Hair extensions or braids
Hair presented in a non-natural colour, or more than one colour
Hair styles incorporating hair of significantly different lengths
Excessive use of gels or other styling products
Long hair must be tied back for practical activities such as PE lessons, Technology lessons and Science practical work.
Pupils should be clean-shaven, with no facial hair such as beards, 'goatees' or moustaches.
Coats
A suitable outdoor coat or anorak may be brought to school. These must be removed when pupils are inside the school building, with the exception of corridors when pupils are entering or leaving the building.
Hooded jumpers, sportswear, tracksuits, sweatshirts, gilets and body warmers are not permissible as outdoor coats and should not be brought to school.
Bags
All pupils should bring a bag to school. This should be strong and sturdy enough to carry exercise books, classroom equipment and PE kit.
Compliance
The Headteacher or, in their absence, the Deputy Headteacher, will be the final arbiter in all matters relating to uniform and appearance.
Pupils will be sanctioned for non-compliance with this policy. This may include attending detentions and/or working in isolation until the pupil is fully compliant with the policy. Persistent and defiant breaches may result in suspension.
Clothing and jewellery that are not permissible within this policy will be confiscated and retained by the school office until the end of the school day. For persistent, defiant or extreme breaches, items may be retained by the school office until they are collected by a Parent/Carer.
In some circumstances, pupils may be asked to go home briefly to remedy a breach of this policy. Parents/Carers will be notified in these circumstances.
The school recognises its legal obligations under the Equality Act 2010 and will allow for adaptations to our policy on the grounds of equality. Parents/carers should contact the Headteacher should they wish to discuss an amendment to the policy in relation to protected characteristics.